Turbocharger operation

CAUTION
• Do not run the engine at high speeds (for example, by revving it or by accelerating rapidly) immediately after starting it.
• Do not stop the engine immediately after high-speed or uphill driving. First allow the engine to idle to give the turbocharger a chance to cool down.
Turbocharger
The turbocharger increases engine power by pushing large amounts of air into the engine's cylinders.
The finned parts inside the turbocharger turn at extremely high speeds and are subjected to extremely high temperatures. They are lubricated and cooled by engine oil. If the engine oil is not replaced at the specified intervals, the bearings may seize or emit abnormal noise.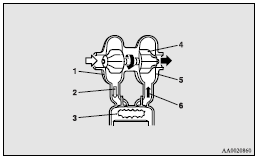 1- Air compressor
2- Compressed air
3- Cylinder
4- Turbo fin
5- Turbine
6- Exhaust gas
See also:
Rear fog lamp
1. Remove the socket and bulb assembly by turning it anticlockwise. 2. Remove the bulb by pulling it out. 3. To install the bulb, perform the removal steps in reverse. ...
Confident Braking Performance
The all-new 2008 Lancer GTS not only tames curves, but does so with the confident stopping power of the same brakes as the larger, heavier Outlander SUV -- 11.6-in. (294 mm) vented discs in front ...
LCD display
The LCD display modes can be changed with the control buttons. LCD Display Control MODE button for changing modes MOVE switch for changing items OK: SELECT/RESET button for s ...