Turbocharger operation

CAUTION
• Do not run the engine at high speeds (for example, by revving it or by accelerating rapidly) immediately after starting it.
• Do not stop the engine immediately after high-speed or uphill driving. First allow the engine to idle to give the turbocharger a chance to cool down.
Turbocharger
The turbocharger increases engine power by pushing large amounts of air into the engine's cylinders.
The finned parts inside the turbocharger turn at extremely high speeds and are subjected to extremely high temperatures. They are lubricated and cooled by engine oil. If the engine oil is not replaced at the specified intervals, the bearings may seize or emit abnormal noise.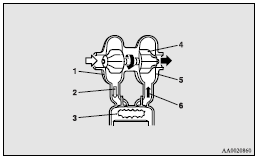 1- Air compressor
2- Compressed air
3- Cylinder
4- Turbo fin
5- Turbine
6- Exhaust gas
See also:
Upholstery
1. To maintain the value of your new vehicle, handle the upholstery carefully and keep the interior clean. Use a vacuum cleaner and brush to clean the seats. If stained, vinyl and synthetic leath ...
Outside (Rear)
1. High-mounted stop lamp 2. Rear window wiper 3. Antenna p. 4. Roof carrier mounting brackets 5. Tyre inflation pressures Changing tyres Tyre rotation Wheel covers Tyre chains 6. R ...
Tyres and wheels
Since the driving torque can be applied to the 4 wheels, the driving performance of the vehicle when operating in 4-wheel drive is greatly affected by the condition of the tyres. Pay close attent ...