Electric power steering system
(EPS)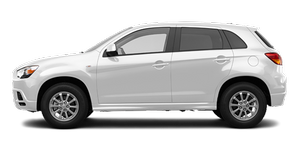 (EPS) - Starting and driving - Mitsubishi ASX Owner's Manual - Mitsubishi ASX" border="0" width="100" align=right>

The electric power steering system (EPS) uses an electric motor to assist the turning of the steering wheel.

NOTE
• During repeated full-lock turning of the steering wheel (for example, while you are manoeuvring the vehicle into a parking space), a protection function may be activated to prevent overheating of the power steering system.
This function will make the steering wheel gradually harder to turn. In this event, limit your turning of the steering wheel for a while. When the system has cooled down, the steering action will return to normal.
• If you turn the steering wheel while the vehicle is stationary with the headlamps on, the headlamps may become dim. This behaviour is not abnormal. The headlamps will return to their original brightness after a short while.
Electric power steering system warning display


When there is a malfunction in the system, the warning display will appear on the information screen in the multi-information display.

CAUTION
• If the warning display appears during driving, it may become harder to turn the steering wheel.
If the warning display appears while driving
1. Stop the vehicle in a safe place and turn off the engine.
2. Wait approximately 30 seconds and then restart the engine to check whether the warning display goes out; if it then remains off, there is no problem.
If the warning display does not go out, or it appears again while driving, we recommend you to have your vehicle inspected.
See also:
Selector lever position display screen*
Shows the position of the selector lever. Refer to "Selector lever operation". ...
Introduction
If you have a flat tire (with tire mobility kit) (if equipped) For safe operation, carefully read and follow the instructions in this manual before use. Compressor Sealant bottle The T ...
Engine coolant
A translucent coolant reserve tank is located in the engine compartment. The coolant level in this tank should be kept between the two marks on the reserve tank when measured while the engine is ...