Passenger's switches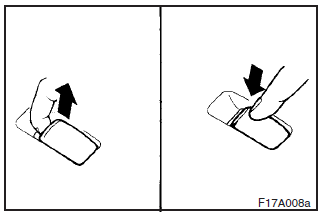 The passenger's switches can be used to operate the corresponding passenger's door windows.
Press the switch down to open the window, and pull up the switch to close it.
If the switch is fully pressed down/pulled up, the door window automatically opens/closes completely.
If you want to stop the window movement, operate the switch lightly in the reverse direction (pull up when moving downward, and press down when moving upward).
NOTE
(1) The door windows can be opened or closed even after the ignition switch is turned off for a 30–second period. If the driver's door is opened during this period, the door window can be opened or closed for another 30 seconds. However, once the driver's door is closed, the windows cannot be operated any more.
(2) The rear door windows only open halfway.
See also:
Cleaning the sunroof
Clean the inside of the sunroof with a soft cloth. Hard deposits should be wiped away with a cloth dipped in warm, neutral detergent solution. Wipe away the solution with a sponge dipped in fresh w ...
Parking on a hill
To prevent the vehicle from rolling, follow these procedures: Parking on a downhill slope Turn the front wheels towards the kerb and move the vehicle forward until the kerb side wheel gently touch ...
Cargo room lamp
When replacing the bulb, put the cargo room lamp switch into the "OFF" position. 1. Insert a straight blade (or minus) screwdriver with a cloth over its tip into the notch of the lamp assembly ...