Headlamp levelling switch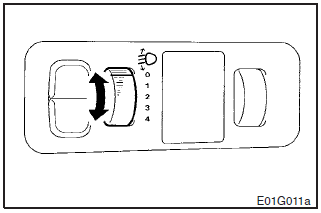 The angle of the headlamp beam varies depending upon the load carried by the vehicle.
The headlamp levelling switch can be used to adjust the headlamp illumination distance (when the lower beam is illuminated) so that the headlamps' glare does not distract the drivers of approaching vehicles. Set the switch (referring to the following table) to the appropriate position according to the number of people and the load in the vehicle.

Switch position 0 – Driver only/Driver + 1 front passenger
Switch position 1 – All passengers
Switch position 2 – All passengers + full luggage loading
Switch position 3 – Driver + full luggage loading
See also:
Pretensioner system
The pretensioner system will retract their respective seat belts instantaneously, thus maximizing the seat belt's effectiveness, if there is a frontal impact severe enough to injure the driver a ...
Mitsubishi Lancer GT in the Market
Retail-priced Lancers shouldn't entice buyers because of how the dated Mitsubishi stacks up against the great crop of sedans at similar prices with better gas mileage. As of this writing, browsing ...
Four-Cylinder Power (Or Lack Thereof)
As mentioned, the Outlander's base powertrain is a letdown. The 168-horsepower, 2.4-liter four-cylinder teams with a continuously variable automatic transmission, and the results are uninspiring, ...