Adjustable seat belt anchor (front seats)
The seat belt anchor height can be adjusted.
Raise or lower the seat belt anchor (A) while pressing the lock knob (B).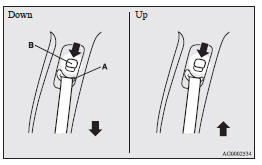 WARNING
• When adjusting the seat belt anchor, set it at a position that is sufficiently high so that the belt will make full contact with your shoulder but will not touch your neck.
See also:
To resume set speed
If the vehicle speed remains 40 km/h or higher when the auto–speed control is deactivated by operating the auto–speed control lever or by any one of the (2) to (7) conditions noted above, th ...
Wheel covers
To removeWrap the tip of the jack bar with a cloth, insert it deeply into the notch provided in the wheel cover, and pry the cover away from the wheel. Using the same procedure at the other wheel ...
2009 Mitsubishi Outlander Review
Halfway through this review, I realized I was convincing myself — one paragraph at a time — that I actually don't like the Mitsubishi Outlander, so I had to reverse course. See, the utilitaria ...