Side turn-signal lamps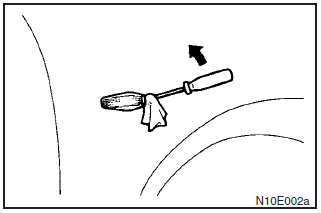 Insert a straight blade (or minus) screwdriver at the edge of the lens, remove the socket assembly and bulb together by turning it anticlockwise, and then remove the bulb by pulling out.
NOTE
Wrap a piece of cloth around the straight blade (or mines) screwdriver in order to avoid scratching the lens and the body.
See also:
Fuel, engine coolant, oil and exhaust gas leakage
Look under the body of your vehicle to check for fuel, engine coolant, oil and exhaust gas leaks. WARNING If you see a suspicious fuel leak or if you smell fuel, do not operate the vehicle; call ...
Plastic, vinyl leather, fabric and flocked parts
1. Gently wipe off with gauze or other soft cloth soaked with a 3 % aqueous solution of neutral detergent. 2. Dip cloth in fresh water and wring out well. Using this cloth, wipe off the detergent ...
Operation under adverse driving conditions
On a flooded road ● Avoid flooded roads. Water could enter the brake discs, resulting in temporarily ineffective brakes. In such cases, lightly depress the brake pedal to see if the brakes ...