Running-in recommendations
During the running-in period for the first 1,000 km, it is advisable to drive your new vehicle using the following precautions as a guideline to aid long life as well as future economy and performance.
(1) Do not race the engine at high speeds.
(2) Avoid rapid starting, accelerating, braking and prolonged high-speed running.
(3) Keep to the running-in speed limit shown below.
Please note that the legal speed limits displayed must be adhered to.
(4) Do not exceed loading limits.
(5) Refrain from towing a trailer.
Vehicles with manual transmission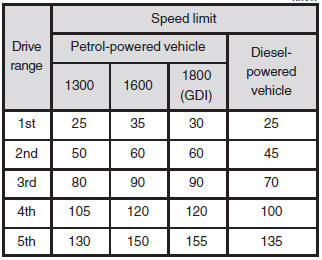 Vehicles with automatic transmission INVECS-II 4A/T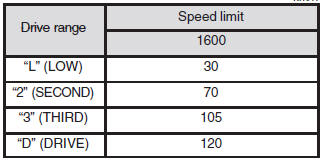 Vehicles with automatic transmission INVECS-II Sport Mode 4A/T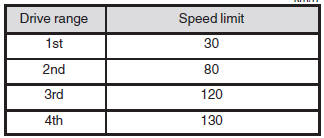 See also:
Average fuel consumption
This value shows the average fuel consumption (in L/100 km or mpg) since the display was reset. If you reset the display at the time when you want to start the measurements, average fuel consump ...
Boot lid (or tailgate)
WARNING It is dangerous to drive with the boot lid (or tailgate) open since carbon monoxide (CO) gas can enter the cabin. You cannot see or smell CO. It can cause unconsciousness and even death. ...
Wiper and washer switch
Caution ► If the washer is used in cold weather, the washer fluid sprayed against the glass may freeze, which may hinder visibility. Warm the glass with the defroster or rear window demiste ...