Changing gears
Always use care to change the gear with the vehicle speed matched to the engine speed. Proper shifting will improve fuel economy and prolong engine life.
Avoid shifting down at high speed, as this may cause excessive engine speed (on vehicles with a tachometer, the tachometer needle into the red zone) and damage the engine.
Economical driving speed
The following shift points are recommended to assist fuel economy. The driver may vary these points to suit driving conditions and load.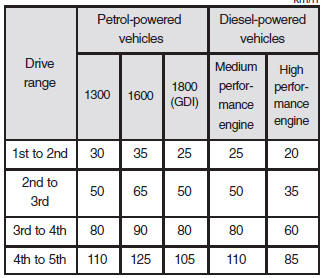 Possible driving speed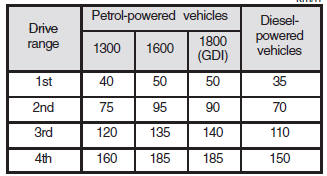 5th gear is an overdrive ratio and its use reduces engine speed below that of the 4th gear. Use 5th gear whenever vehicle speed allows, for maximum fuel economy.
See also:
Headlamps
NOTE • When entering a country in which vehicles are driven on the opposite side of the road to the country in which your vehicles is supplied, necessary measures have to be taken to avoid daz ...
Front fog lamp switch*
The front fog lamp can be operated when the headlamps or tail lamps turn on. Push the switch to turn on the front fog lamps, and push the switch again to turn them off. The indication lamp in t ...
Seat belt inspection
► Check the belts for cuts, worn or frayed webbing and for cracked or deformed metallic parts. Replace the belt assembly if it is defective. ► A dirty belt should be cleaned with neutra ...