Changing gears
Always use care to change the gear with the vehicle speed matched to the engine speed. Proper shifting will improve fuel economy and prolong engine life.
Avoid shifting down at high speed, as this may cause excessive engine speed (on vehicles with a tachometer, the tachometer needle into the red zone) and damage the engine.
Economical driving speed
The following shift points are recommended to assist fuel economy. The driver may vary these points to suit driving conditions and load.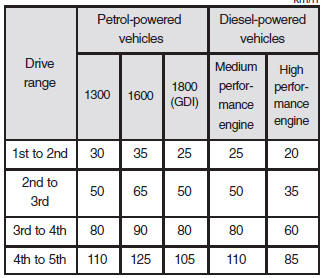 Possible driving speed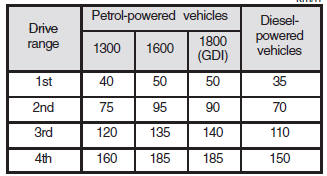 5th gear is an overdrive ratio and its use reduces engine speed below that of the 4th gear. Use 5th gear whenever vehicle speed allows, for maximum fuel economy.
See also:
Operation of the Twin Clutch SST
Caution ► Before selecting a position with the engine running and the vehicle stationary, fully depress the brake pedal to prevent the vehicle from creeping. The vehicle will begin to move ...
Towing the vehicle by a tow truck
CAUTION (1) This vehicle cannot be towed by a tow truck using Type A equipment to prevent the bumper from deformation. If this vehicle is towed, use Type B, Type C, Type D or Type E equipment. (2 ...
Instruments
1- Speedometer (km or mph + km/h). 2- Multi-information display → P. 3-4 Information screen display list → P. 3-40. 3- Tachometer → P. 3-2. 4- Daytime dipper button (meter illum ...