Electronic immobilizer (Antitheft starting system)
[For vehicles equipped with keyless operation system]
For information on operations for vehicles equipped with the keyless operation system, refer to "Keyless operation system: Electronic immobilizer (Anti-theft starting system)".
[Except for vehicles equipped with keyless operation system] The electronic immobilizer is designed to significantly reduce the possibility of vehicle theft. The purpose of the system is to immobilize the vehicle if an invalid start is attempted. A valid start attempt can only be achieved by using a key "registered" to the immobilizer system.

NOTE
• In the following cases, the vehicle may not be able to receive the registered ID code from the registered key and the engine may not start.
• When the key contacts a key ring or other metallic or magnetic object (Type A)
• When the key grip contacts metal of another key (Type B)
• When the key contacts or is close to other immobilizing keys (including keys of other vehicles) (Type C) In cases like these, remove the object or additional key from the vehicle key. Then try again to start the engine.
If the engine does not start, we recommend you to contact your MITSUBISHI MOTORS Authorized Service Point.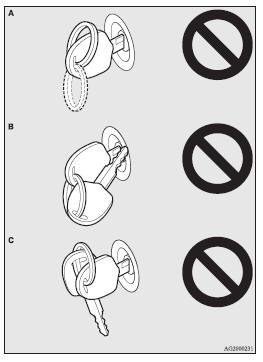 • If you lose one of them, contact your MITSUBISHI MOTORS Authorized Service Point as soon as possible.
To obtain a replacement or extra spare key, take your vehicle and all remaining keys to your MITSUBISHI MOTORS Authorized Service Point. All the keys have to be re-registered in the immobilizer computer unit.
The immobilizer can register up to 8 different keys.

CAUTION
• Do not modify or add parts to the immobilizer system. Doing so could cause the immobilizer to malfunction.
See also:
Phone book function
The Bluetooth® 2.0 interface has 2 types of unique phone books that are different from the phone book stored in the cellular phone. They are the vehicle phone book and the mobile phone book. The ...
More Precise Steering
The 2008 Lancer owes its crisp, fluid steering response to the integration of the highly rigid body structure, the newly designed suspension, and of course the new rack and pinion steering system ...
Auto stop
1. Stop the vehicle. 2. Place the gearshift lever in the "N" (Neutral) position. 3. Release the clutch pedal. 4. The " " display/indicator will turn on and the engine will stop automatica ...