How to enter PTYs in the memory
As many as 6 PTYs can be entered in the memory.
Follow the steps described below.
1. Press either the TUNE/SEEK button (5 or 6) to tune the PTY to be entered in the memory.
2. Press one of the memory select buttons (7) for about 2 seconds or longer. The sound will be momentarily interrupted while the PTY is being entered into the memory. The number of the button corresponding to the entry into the memory, and the PTY are displayed.
3. The preset memory setting is retrieved by pressing the button and then releasing it within about 2 seconds.
NOTE
Disconnecting the battery terminal erases all PTYs stored in the memory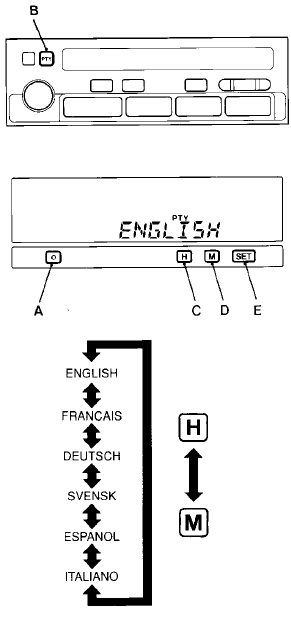 See also:
The Look
The current-generation Lancer sedan has been sold since early 2007. (See a side-by-side comparison of the 2010 Lancer Sportback and sedan.) Mitsubishi has resurrected the Sportback name for 2010, ...
Luggage compartment lamp
Insert a straight blade (or minus) screwdriver into the notch of the lens and pry gently to remove the lens. Remove the bulb from the lamp holder. NOTE Wrap a piece of cloth around the straight ...
Procedure for replacing the remote control switch battery
1. Before replacing the battery, remove static electricity from your body by touching a metal grounded object. 2. Remove the screw (A) from the remote control switch. 3. With the MITSUBISHI mark ...