Handling of compact discs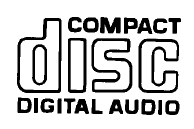 (1) This CD player allows use of only the compact discs with the mark shown in the illustration above.
(Playback of CD–R discs may cause problems. CD–RW discs cannot be played.)
The use of heart-shaped, octagonal, or any other non-circular discs will result in the CD player being damaged.
(2) When the temperature suddenly rises, i.e. immediately after the heater is turned on in cold weather, dew condensation on the disc or in the player might occur resulting in failure of operation. In such a case, allow some time before use.
(3) When the CD player is subjected to violent vibration as during off-road driving, detracking may result.
(4) When storing compact discs, always store them in their individual cases. Never place compact discs in direct sunlight, or in any place where the temperature or humidity is high.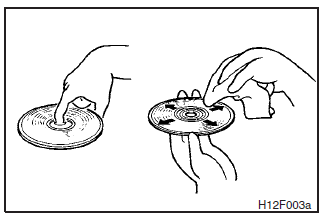 (5) Take care never to touch the flat surface of the disc where there is no label. Doing so will contaminate the disc surface and might adversely affect the sound quality. When handling a compact disc, always hold it by grasping the outer circumference and the centre hole.
(6) To clean the disc, use a soft, clean, dry cloth. Wipe directly from the centre hole toward the outer-edge; do not wipe in a circular pattern.
Never use any substances such as benzine, paint thinner, a disc spray cleaner, or an anti-static agent on the disc.
(7) Do not use a disc that is cracked or badly warped. Doing so might cause a malfunction of the disc player.
(8) Do not use a ballpoint pen, felt pen, pencil, etc. to write on the label surface of the disc, and do not attach any other labels, seals, etc.
CD player laser warning Use of controls or adjustments, or performance of procedures other than normal use, may result in hazardous radiation exposure.
Avoid direct exposure to beam.
See also:
Room lamps
Insert a straight blade (or minus) screwdriver into the notch of the lamp assembly and pry gently to remove the lens. Remove the lamp bulb from the lamp holder. NOTE Wrap a piece of cloth aroun ...
Modification/alterations to the electrical or fuel systems
MITSUBISHI MOTORS CORPORATION has always manufactured safe, high quality vehicles. In order to maintain this safety and quality, it is important that any accessory that is to be fitted, or any mod ...
Interrupt display screen (when the ignition switch or the operation mode is ON)
Warning display When there is information to be announced, such as a system fault, a sound is emitted and the information screen switches to the warning display screen. Refer to the warning list a ...