Audio system anti-theft feature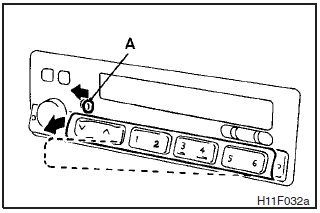 To prevent theft of the audio system, the control panel can be removed. Always remove the control panel when you leave the vehicle.
Removing the control panel
Turn the ignition switch to the OFF position. Then slide the release button (A) to the left and remove the control panel from the audio system. (When sliding the release button, place one hand on the control panel to prevent it from falling out.) The lamp (B) will start flashing.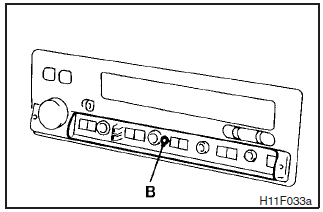 Insert the control panel into the latches at the right-hand side of the cutout on the audio system. Then, press the left-hand side of the control panel into the cutout until it locks in position. The lamp (B) will stop flashing. Next, turn the ignition switch to the ON position.
NOTE
(1) Do not leave the control panel in any place where it may become hot (for example, the dashboard) or in any place where it may become wet.
(2) If you lose the control panel, contact an authorized MITSUBISHI dealer.
See also:
Bonnet
To open Pull the release lever towards you to unlock the bonnet. Raise the bonnet while pressing the safety lock. NOTE Only open the bonnet when the wipers are in the parked position. Failure ...
Front turn-signal lamps
1. Remove the clips (A) and clips (B), then remove the duct (C) and the upper cover (D). 2. Remove the entire socket and bulb assembly (E) by turning it anticlockwise. : Front of the vehicle ...
To remove the key
For vehicles equipped with a M/T, when removing the key, push the key in at the "ACC" position and keep it depressed until it is turned to the "LOCK" position, and remove it. For vehicl ...