Audio system anti-theft feature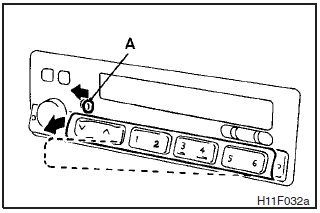 To prevent theft of the audio system, the control panel can be removed. Always remove the control panel when you leave the vehicle.
Removing the control panel
Turn the ignition switch to the OFF position. Then slide the release button (A) to the left and remove the control panel from the audio system. (When sliding the release button, place one hand on the control panel to prevent it from falling out.) The lamp (B) will start flashing.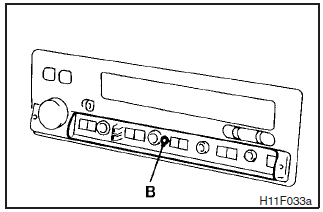 Insert the control panel into the latches at the right-hand side of the cutout on the audio system. Then, press the left-hand side of the control panel into the cutout until it locks in position. The lamp (B) will stop flashing. Next, turn the ignition switch to the ON position.
NOTE
(1) Do not leave the control panel in any place where it may become hot (for example, the dashboard) or in any place where it may become wet.
(2) If you lose the control panel, contact an authorized MITSUBISHI dealer.
See also:
Surround View Monitor settings
Surround View Monitor can assist in parking by allowing the driver to see around the vehicle. Detecting sensor 1: SVM-front view camera 2, 3: SVM-side view camera (under the sid ...
Air purifier
An air filter has been incorporated into this air conditioning so that pollen and dust are cleaned from the air. Replace the air filter periodically as its ability to clean the air will be reduced ...
Momentary fuel consumption display
While driving, this displays the momentary fuel consumption, using a bar graph. When the momentary fuel consumption surpasses the average fuel consumption, the momentary fuel consumption is displ ...