Combination of unheated air and heated air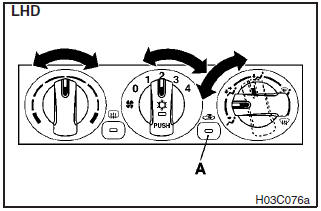 Set the mode selection dial to the position shown in the illustration and set the air selection switch (A) to the outside position.
The air will be directed to the leg area and the upper part of the passenger compartment. Select desired blower speed.
Warm air flows to the leg area and unheated or slightly warm air flows to the upper part of the passenger compartment.
See also:
Forward Collision-Avoidance Assist settings
Forward Safety Driver Assistance Forward Safety Active Assist Warning Only Off With the vehicle on, select Settings→ Driver Assistance → Forward Safety from the User S ...
Fuse replacement
1. Before replacing a fuse, always turn off the electrical circuit concerned and place the ignition switch in the "LOCK" position. 2. Remove the fuse puller (A) from the inside of the fuse box ...
Genuine parts
Don't play around with substitutes. MITSUBISHI has gone to great lengths to bring you a superbly crafted vehicle offering the highest quality and dependability. Don't reduce that quality and de ...