Bleeding the fuel system (diesel-powered vehicles only)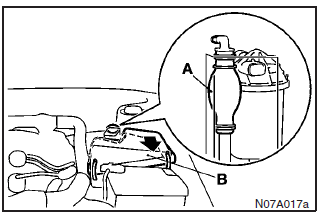 The fuel system should be bled to remove air as described below if the fuel supply is exhausted during travel.
1. Undo the four clips on the air cleaner and push the cover (B) aside.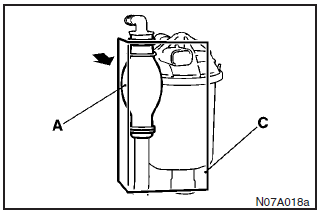 2. Press the pump (A) against the bracket (C) with your fingers until the pump becomes stiff. Then pump several times more to pressurize the system.
3. Finally, start the engine and check for leakage of fuel. If in doubt, consult your nearest authorized MITSUBISHI dealer.
CAUTION
(1) Do not smoke or have any other open flame near the vehicle while bleeding the fuel system.
(2) Be sure to carefully clean away any spilt fuel which could ignite and cause a fire.
See also:
Driving range
For vehicles with MITSUBISHI genuine audio, driving range can be displayed. This value shows the distance (in km or miles) that can be driven on the fuel remaining in the fuel tank. NOTE (1) Wh ...
Vehicle performance
1: Vehicles equipped with the electronic power steering system 2: Vehicles equipped with the high power engine 3: Vehicles equipped with the low power engine ...
During cold weather
The capacity of the battery is reduced at low temperatures. This is an inevitable result of its chemical and physical properties. This is why a very cold battery, particularly one that is not fully ...