Removal of water from the fuel filter (diesel-powered vehicles only)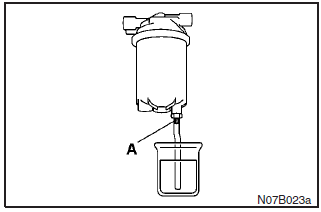 When water has accumulated in the fuel filter, remove the water as described below.
1. Place a drainage tray under the filter.
2. Connect a hose to the drain plug (A) and let it hang down into the tray.
3. Loosen the drain plug (A) a few turns and tighten the drain plug when clean fuel comes through.
4. Bleed the air (Refer to "Bleeding the fuel system" on page 8–21).
CAUTION
(1) Do not smoke or have any other open flame near the vehicle while bleeding the fuel system.
(2) Be sure to carefully clean away any water drained out, because any fuel mixed with the water could ignite and cause a fire.
See also:
Changing the fuel consumption display unit
The display unit for fuel consumption can be switched. The distance, speed, and amount units are also switched to match the selected fuel consumption unit. 1. Press and hold the multi-information ...
Bleeding the fuel system (diesel-powered vehicles only)
The fuel system should be bled to remove air as described below if the fuel supply is exhausted during travel. 1. Undo the four clips on the air cleaner and push the cover (B) aside. 2. Press ...
To apply the parking brake
1- Firmly depress and hold the brake pedal, then pull the lever up without pushing the button at the end of hand grip. Caution ► When you intend to apply the parking brake, firmly press t ...