The front airbags and driver's knee airbag MAY NOT DEPLOY when…
With certain types of frontal collisions, the vehicle's body structure is designed to absorb the shock to help protect the occupants from harm. (The vehicle body's front area may deform significantly as it absorbs the impact.) Under such circumstances, the front airbags and driver's knee airbag may not deploy irrespective of the deformation and damage to the vehicle body.
Examples of some typical conditions are shown in the illustration.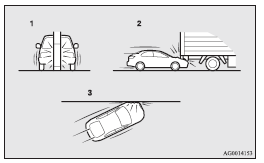 1- Collision with a utility pole, tree or other narrow objects
2- Vehicle slides under the rear body of a truck
3- Oblique frontal impacts
Because the front airbags and driver's knee airbag do not protect the occupant in all types of frontal collisions, be sure to always properly wear your seat belts.
See also:
To install
Align the tyre valve with the valve opening provided on the wheel cover. Then tap around the outer edge of the wheel cover with your hand to secure it in place. NOTE Full wheel covers have a sy ...
To release the parking brake
1- Firmly depress and hold the brake pedal, then pull the lever up slightly. 2- Push the button at the end of hand grip. 3- Lower the lever fully. Caution ► Before driving, be sure that t ...
Cleaning the exterior of your vehicle
If the following is left on your vehicle, it may cause corrosion, discolouration and stains, wash the vehicle as soon as possible. • Seawater, road deicing products. • Soot and dust, iron powd ...