Engine oil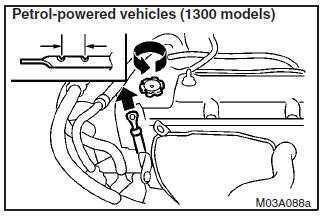 The engine oil used has a significant effect on the engine's performance, service life and startability. Be sure to use oil of the recommended quality and appropriate viscosity. All engines consume a certain amount of oil during normal operation (See note below). Therefore, it is important to check the oil at regular intervals or before starting a long journey.
This check must be carried out with the vehicle on a flat level surface with the engine at normal operating temperature, but NOT running. If the engine has been running, wait for a few minutes to allow the engine oil to return to the oil pan to ensure an accurate measurement.
Remove the dipstick and wipe it with a clean cloth, re-insert the dipstick as far as it will go. Remove the dipstick and check the oil level. This should always be within the range as indicated.
If the oil level is below the specified limit, remove the filler cap and add oil. Then recheck the level. When satisfied that the level is correct, refit the oil filler cap making sure that it is securely fitted.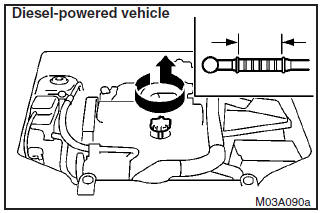 Use only the recommended oils with an API or ACEA classification as specified in this manual.
NOTE
(1) Engine oil consumption is greatly influenced by payload, engine speed, etc. It may reach 1.0 lit./1,000 km depending on style of driving.
(2) The engine oil will deteriorate rapidly if the vehicle is subjected to severe conditions (for example, repeated operation on rough roads, in mountainous regions, on roads with many uphill and downhill gradients, or over short distances). Consequently, the oil will require earlier replacement.
(3) For handling of used engine oils, refer to page 1–11.
See also:
Odometer
Type A / Type B The odometer Indicates the total distance that the vehicle has been driven and should be used to determine when periodic maintenance should be performed. Odometer range: 0 ...
Twin Clutch SST (Sport Shift Transmission)
The Twin Clutch SST is a transmission that, through integrated control of the engine and transmission, is able to achieve both the smooth shifting of an automatic transmission and the acceleration ...
Doors
CAUTION • Make sure the doors are closed: driving with doors not completely closed is dangerous. • Never leave children in the vehicle unattended. • Be careful not to lock the doors while ...