Heated seats
The heated seats can be operated with the ignition switch in the "ON" position. Operate the switch as indicated by arrows.
The indication lamp (A) will illuminate while the heater is on.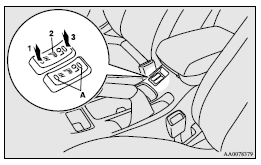 1 (HI)- Heater high (for quick heating).
2- Heater off.
3 (LO)- Heater low (to keep the seat warm).

Caution
► Switch off seat heaters when not in use.
► Operate in the high position for quick heating.
Once the seat is warm, set the heater to low to keep it warm. Slight variations in seat temperature may be felt while using the heated seats. This is caused by the operation of the heater's internal thermostat and does not indicate a malfunction.
► If the following types of persons use the heated seats, they might become too hot or receive minor burns (red skin, heat blisters, etc.):
• Children, elderly or ill people
• People with sensitive skin
• Excessively tired people
• People under the influence of alcohol or sleep inducing medication (cold medicine, etc.)
► Do not place heavy objects on the seat or stick pins, needles, or other pointed objects into it.
► Do not use a blanket, cushion, or other material with high heat insulation properties on the seat while using the heater; this might cause the heater element to overheat

Caution
► When cleaning the seat, do not use benzene, kerosene, petrol, alcohol, or other organic solvents; these might damage the surface of the seat and also the heater element.
► If water or any other liquid is spilled on the seat, allow it to dry thoroughly before attempting to use the heater.
► Turn the heater off immediately if it appears to be malfunctioning during use.
See also:
Wiper and washer switch
CAUTION • If the washer is used in cold weather, the washer fluid sprayed against the glass may freeze, which may hinder visibility. Warm the glass with the defroster or rear window demister be ...
Using the MIVEC engine
The MIVEC engine automatically switches its intake- valve control between a low-speed mode and a high-speed mode in accordance with driving conditions for maximum engine performance. NOTE • T ...
Trip information (trip computer)
Drive info Accumulated trip distance Average fuel efficiency Total driving time The trip computer mode displays information related to vehicle driving parameters including fuel e ...