Fuel filter indicator display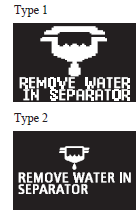 When the ignition switch is "ON", if more than specified limit water has accumulated in the fuel filter, a warning display is displayed on the information screen in the multi-information display.

Caution
► If this warning display is displayed we recommend you to have it checked.
Prolonged driving with the warning display on the screen may damage the engine.

Note
► If "REMOVE WATER IN SEPARATOR" does not go out or appears frequently after removing the water, we recommend you to consult a MITSUBISHI MOTORS Authorized Service Point.