Brake warning display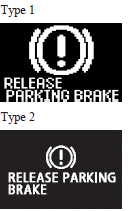 This warning is displayed if you drive with the parking brake still applied. The warning lamp in the instrument cluster only illuminates when the parking brake is applied.

Caution
► If a vehicle is driven without releasing the parking brake, the brake will be overheated, resulting in ineffective braking and possible brake failure.
If this warning is displayed, release the parking brake.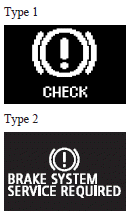 When the ignition switch is turned to the "ON" position, if the brake fluid is low, this warning is displayed.
The warning lamp in the instrument cluster also illuminates.

Caution
► If this warning stays illuminated and does not go out while driving, there is a danger of ineffective braking. In this case, immediately park your vehicle in a safe place and we recommend you to have it checked.
► If the brake warning display is displayed and the brake warning lamp and the ABS warning lamp are illuminated at the same time, the braking force distribution function will not operate, so the vehicle may be destabilised during sudden braking.
Avoid sudden braking and high-speed driving, stop the vehicle in a safe place, and we recommend you to have it checked.
► The vehicle should be brought to a halt in the following manner when brake performance has deteriorated.
• Depress the brake pedal harder than usual.
Even if the brake pedal moves down to the very end of its possible stroke, keep it pressed down hard.
• Should the brakes fail, use engine braking to reduce your speed and pull the parking brake lever.
Depress the brake pedal to operate the stop lamp to alert the vehicles behind you.
See also:
Aluminium wheels
A protective coating is provided over the aluminium type wheels. Clean aluminium wheels with a cleaner designed for use on aluminium and apply an appropriate protection agent. NOTE (1) When clean ...
Lamps (headlamps, fog lamp, etc.) auto-cutout function
• If the following operation is performed while the lamp switch is in the position, the lamps will automatically go out when the driver's door is opened. [Except for vehicles equipped with ke ...
New language
Fittingly, MMC's complete family of Passenger Vehicles / Crossovers / SUVs will also see a gradual transition to a re-focused design language, as seen with the all-new Mitsubishi Outlander. While ...