Headlamp levelling switch
The angle of the headlamp beam varies depending on the load carried by the vehicle.
The headlamp levelling switch can be used to adjust the headlamp illumination distance (when the lower beam is illuminated) so that the headlamps' glare does not distract other drivers.
Set the switch according to the following table.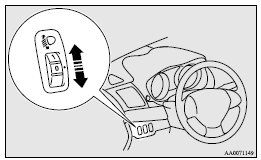 Caution
► Always perform adjustments before driving.
Do not attempt to adjust while driving, as it could cause an accident.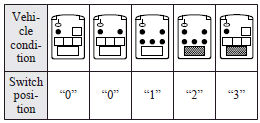 1 person

Full luggage loading
Switch position 0- Driver only/Driver + 1 front passenger
Switch position 1- 5 passengers (including driver)
Switch position 2- 5 passengers (including driver) + Full luggage loading
Switch position 3- Driver + Full luggage loading
See also:
During cold weather
The capacity of the battery is reduced at low temperatures. This is an inevitable result of its chemical and physical properties. This is why a very cold battery, particularly one that is not fully ...
Reverse Parking Distance Warning settings
Reverse Parking Distance Warning will help warn the driver if a person, an animal or an object is detected within a certain distance when the vehicle is moving in reverse. Detecting sensor R ...
Seat belt precautions
Take the following precautions when using seat belts. Infant or small child All 50 states have child restraint laws. You should be aware of the specific requirements in your state. Child and/or ...