Turbocharger operation

Caution
► Do not run the engine at high speeds (for example, by revving it or by accelerating rapidly) immediately after starting it.
► Do not stop the engine immediately after high-speed or uphill driving. First allow the engine to idle to give the turbocharger a chance to cool down.
Turbocharger
The turbocharger increases engine power by pushing large amounts of air into the engine's cylinders.
The finned parts inside the turbocharger turn at extremely high speeds and are subjected to extremely high temperatures. They are lubricated and cooled by engine oil. If the engine oil is not replaced at the specified intervals, the bearings may seize or emit abnormal noise.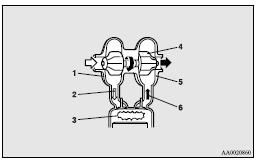 1- Air compressor
2- Compressed air
3- Cylinder
4- Turbo fin
5- Turbine
6- Exhaust gas
See also:
Notes regarding diesel fuel
Due to paraffin separation, the fluidity of diesel fuel decreases remarkably as the temperature decreases. For this reason, diesel fuel is divided into two types, "summer" and "winter". T ...
Height adjustment
Adjust the head restraint height so that the centre of the restraint is as close as possible to eye level to reduce the chances of injury in the event of collision. Any person too tall for the r ...
Road warning
When an emergency situation occurs while driving or when you park by the edge of the roadway, you must alert approaching or passing vehicles to be careful as they pass. For this, you should use t ...