Except for vehicles equipped with rain sensor
The windscreen wiper and washer can be operated with the ignition switch in the "ON" or "ACC" position.
If the blades are frozen to the windscreen, do not operate the wipers until the ice has melted and the blades are freed, otherwise the wiper motor may be damaged.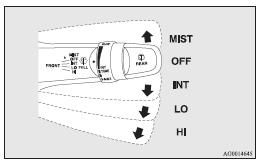 MIST- Misting function
The wipers will operate once.
OFF- Off
INT- Intermittent (Speed sensitive)
LO- Slow
HI- Fast
To adjust intermittent intervals
With the lever in the "INT" (speed-sensitive intermittent operation) position, the intermittent intervals can be adjusted by turning the knob (A).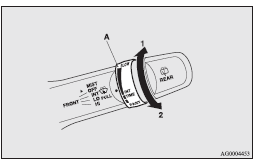 1- Fast
2- Slow

Note
► The speed-sensitive-operation function of the windscreen wipers can be deactivated.
For further information, we recommend you to consult a MITSUBISHI MOTORS Authorized Service Point.
On vehicles equipped with MITSUBISHI Multi-Communication System (MMCS), screen operations can be used to make the adjustment.
Refer to the separate owner's manual for details.
Misting function
The misting function can be used when the ignition switch is in the "ON" or "ACC" position.
The wipers will operate once if the wiper lever is raised to the "MIST" position and released. This operation is useful when it is drizzling, etc. The wipers will continue to operate while the lever is held in the "MIST" position.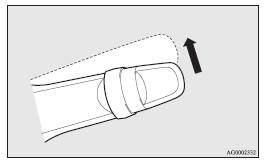 See also:
Emergency starting
If the engine cannot be started because the battery is weak or dead, the battery from another vehicle can be used with jumper cables to start the engine. WARNING • To start the engine using jum ...
Meter, gauge and indication/ warning lamp operation
Run the engine to check the operation of all meters, gauges, and indication/warning lamps. If there is anything wrong, take the vehicle to an authorized MITSUBISHI dealer for inspection. ...
Mark display screen (when the ignition switch is "ON")
This is displayed when you press the multi- information meter switch and switch the warning display screen. This mark is also displayed if there is another warning other than the one displayed. ...