To release the parking brake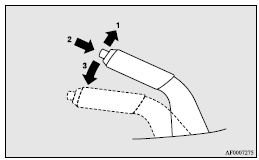 1- Firmly depress and hold the brake pedal, then pull the lever up slightly.
2- Push the button at the end of hand grip.
3- Lower the lever fully.

Caution
► Before driving, be sure that the parking brake is fully released and brake warning lamp is off.
If you drive without the parking brake fully released, the warning display will appear on the information screen in the multi- information display.
If a vehicle is driven without releasing the parking brake, the brake will be overheated, resulting in ineffective braking and possible brake failure.
Warning lamp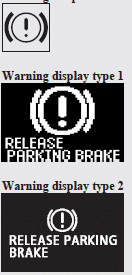 Caution
► If the brake warning lamp does not extinguish when the parking brake is fully released, the brake system may be abnormal.
Have your vehicle checked immediately.
For details, refer to "Brake warning lamp".
See also:
Lamp monitor buzzer
[When the engine was started using the key] If the driver's door is opened when the key is in the "LOCK" or "ACC" position or removed from the ignition switch while the lamps are on, a b ...
Information screen (when the ignition switch is "ON")
Each time you lightly press the multi-information meter switch, the display screen switches in the following order. 1- Odometer (Type 1)/Tripmeter 2- Odometer (Type 1)/Tripmeter 3- Service re ...
Average fuel consumption display
This displays the average fuel consumption from the last reset to the present time. There are the following 2 mode settings. For information on how to change the average fuel consumption display s ...