ASC warning display
If an abnormal condition occurs in the system, the following display/indicator will turn on.

- ASC indicator

- ASC OFF display/ASC OFF indicator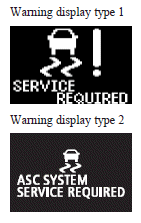 Note
► The combination of items shown on the display varies depending on the vehicle model.

Caution
► The system may be malfunctioning.
Park your vehicle in a safe place and stop the engine. Restart the engine and check whether the display/indicator goes out. If they go out, there is no abnormal condition.
If they do not go out or appear frequently, it is not necessary to stop the vehicle immediately, but we recommend you to have your vehicle inspected.
See also:
Meter, gauge and indication/ warning lamp operation
Run the engine to check the operation of all meters, gauges, and indication/warning lamps. If there is anything wrong, take the vehicle to an authorized MITSUBISHI dealer for inspection. ...
Electric window control switch
Each door window opens or closes while the corresponding switch is operated. 1- Driver's door window 2- Front passenger's door window 3- Rear left door window 4- Rear right door window 5- L ...
Towing the vehicle by a tow truck
Caution ► This vehicle must not be towed by a tow truck using sling lift type equipment (Type A) as illustrated. Using a sling lift will damage the bumper and front end. ► Do not tow ...