Roof carrier mounting brackets
When installing the roof carrier, use the brackets (A).
The brackets (A) are located under each cover (B).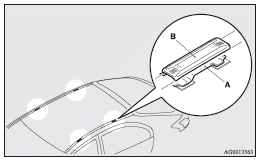 Attaching the roof carrier
Slide each cover (B) towards the front of the vehicle to remove it.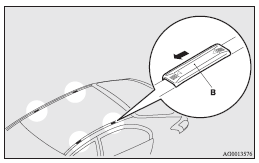 Refitting the covers
1. With each cover, put the tabs (C) on the cover in the holes (D) in the roof.
2. Slide the cover (B) towards the rear of the vehicle to install it.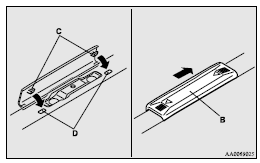 See also:
Vehicle equipped with steel wheels
Tighten the wheel nuts (tapered nuts) until the tapered parts of the wheel nuts make light contact with the seats of the wheel holes and the wheel is not loose. With a spare wheel, tighten the whee ...
Parking brake
To park the vehicle, first bring it to a complete stop, fully engage the parking brake and then move the gear shift lever to 1st (on an uphill) or Reverse (on a downhill) position, for vehicles ...
Radio data system (RDS)
1- PWR (On-Off) switch 2- AM/FM (FM/MW/LW selection) button 3- Memory select buttons 4- TP (Traffic program) button 5- PTY (Program type) button 6- TUNE switch 7- SEEK (Up-seek) button 8- S ...