Vehicle equipped with steel wheels
Tighten the wheel nuts (tapered nuts) until the tapered parts of the wheel nuts make light contact with the seats of the wheel holes and the wheel is not loose.
With a spare wheel, tighten the wheel nuts in the same way.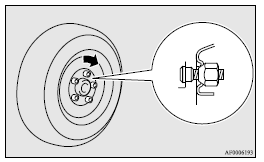 Vehicle equipped with aluminium wheels
Tighten the wheel nuts (flange nuts) until the flanges of the wheel nuts touch the wheel and the wheel is not loose.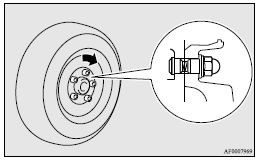 Note
► Flange nuts can be temporarily used on the steel spare wheel as shown in the illustration, but return to the original wheel and tyre as soon as possible.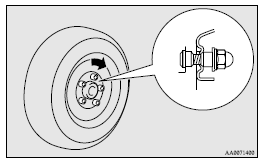 ► If all 4 aluminium wheels are changed to steel wheels, e.g. when fitting winter tyres, use tapered nuts.

Caution
► Never apply oil to either the wheel bolts or the nuts, or they will tighten too much.
8. Lower the vehicle slowly by rotating the wheel nut wrench anticlockwise until the tyre touches the ground.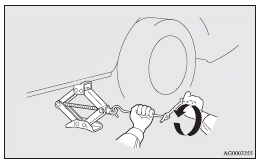 9. Tighten the nuts in the order shown in the illustration until each nut has been tightened to the torque listed here.
Tightening torque 88 to 108 Nm (Achieved by applying a force of 350 to 420 N at the end of the wheel nut wrench supplied with the vehicle.)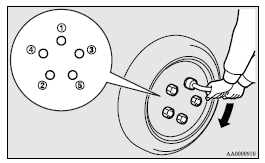 Caution
► Never use your foot or a pipe extension for extra force in the wheel nut wrench.
If you do so, you will tighten the nut too much.
10. Lower the jack all the way and remove it.
11. Check your tyre inflation pressure at the next gasstation. The correct pressures are shown on the door label. See the illustration.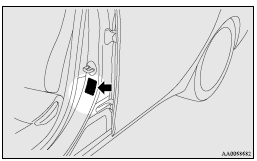 Caution
► The tyre pressure should be periodically checked and maintained at the specified pressure while the tyre is stowed.
► The compact spare tyre is to be used only temporarily when the standard tyre is damaged. Repair the damaged tyre as soon as possible and use it to replace the compact spare tyre.
► After changing the tyre and driving the vehicle about 1.000 km (620 miles), retighten the wheel nuts to make sure that they have not come loose.
► If the steering wheel vibrates when driving after changing the tyre, we recommend you to have the tyres checked for balance.
► Do not mix one type of tyre with another or use a different size from the one listed.
This would cause early wear and poor handling.
See also:
Child restraint
When transporting children in your vehicle, some type of child restraint system should always be used according to the size of the child. This is required by law in most countries. The regulation ...
Front/Rear ashtray (moveable)
To use the moveable ashtray, open the lid. Mounting position for moveable ashtray The moveable ashtray can be fitted at the indicated position. Refer to "Cup holder". ...
Infants and small children
When transporting infants and small children in your vehicle, follow the instruction given below. Instruction: (1) For small infants, an infant carrier should be used. For small children whose ...