Engine compartment
In the engine compartment, the fuse block is located as shown in the illustration.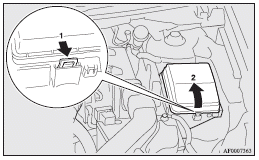 1- Push the knob.
2- Remove the cover.
See also:
Tilt & telescopic steering wheel
Tilt & telescopic steering wheel A tilt and telescopic steering wheel allows you to adjust the steering wheel before you drive. You can also raise it to give your legs more room when you exit ...
To remove
1. Wrap the tip of the bar with a cloth, insert it deeply into the notch provided in the wheel cover, and use it to lever up the cover a little. 2. With the cover raised a little, pry it off comp ...
To apply the parking brake
1- Firmly depress and hold the brake pedal, then pull the lever up without pushing the button at the end of hand grip. Caution ► When you intend to apply the parking brake, firmly press t ...