Engine compartment fuse location table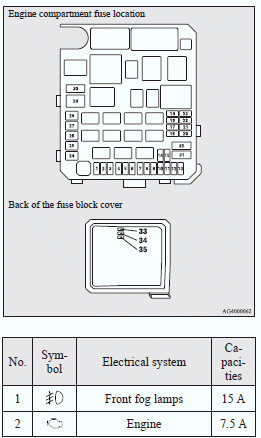 1: Except for petrol-powered vehicles equipped with turbocharger
2: Petrol-powered vehicles with turbocharger
3: Fusible link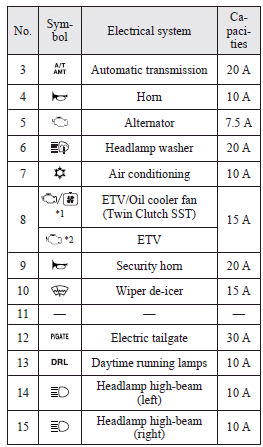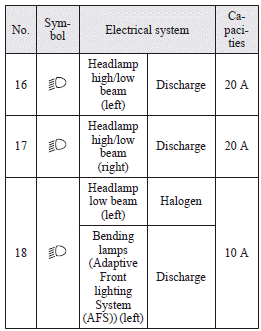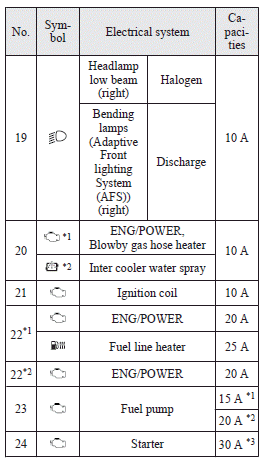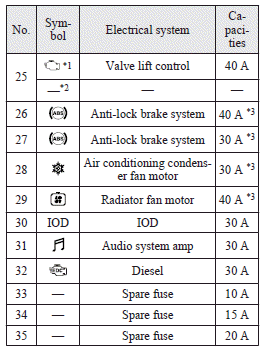 1: Except for petrol-powered vehicles equipped with turbocharger
2: Petrol-powered vehicles with turbocharger
3: Fusible link
► Some fuses may not be installed on your vehicle, depending on the vehicle model or specifications.
► The table above shows the main equipment corresponding to each fuse.
The fuse box does not contain spare 7.5 A, 25 A or 30 A fuses. If one of these fuses burns out, substitute with the following fuse.
7.5 A: 10 A spare fuse
25 A: 20 A spare fuse
30 A: 30 A audio system amp fuse
When using a substitute fuse, replace with a fuse of the correct capacity as soon as possible.
See also:
Driver's switches
The driver's switches can be used to operate all door windows. A window can be opened or closed by operating the corresponding switch. Press the switch down to open the window, and pull up the ...
Warning lamps
Brake warning lamp This lamp will illuminate for a few seconds when the ignition switch is turned to the "ON" position. A warning is also displayed on the multi-information display. With the i ...
Selection of engine oil (petrol-powered vehicle)
(1) Select engine oil of the proper SAE viscosity number according to the atmospheric temperature. For 0W-30, 5W-30, 0W-40 and 5W-40 viscosity grade, use only ACEA A3 classification. (2) Use eng ...