Engine compartment fuse location table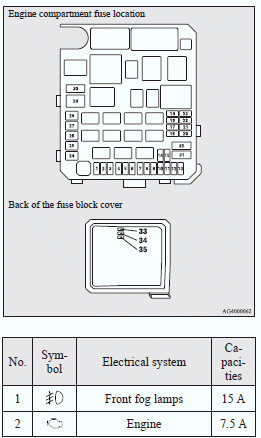 1: Except for petrol-powered vehicles equipped with turbocharger
2: Petrol-powered vehicles with turbocharger
3: Fusible link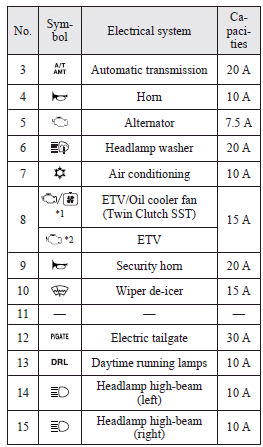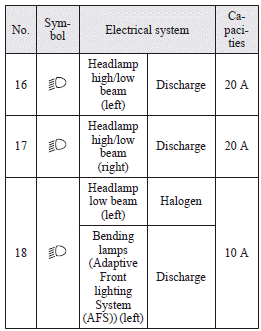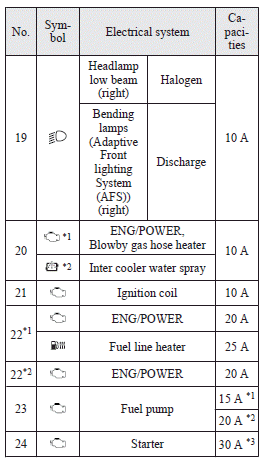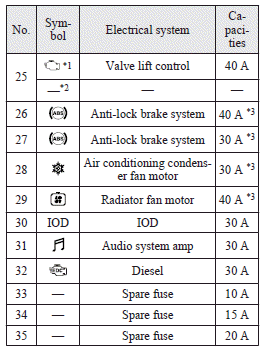 1: Except for petrol-powered vehicles equipped with turbocharger
2: Petrol-powered vehicles with turbocharger
3: Fusible link
► Some fuses may not be installed on your vehicle, depending on the vehicle model or specifications.
► The table above shows the main equipment corresponding to each fuse.
The fuse box does not contain spare 7.5 A, 25 A or 30 A fuses. If one of these fuses burns out, substitute with the following fuse.
7.5 A: 10 A spare fuse
25 A: 20 A spare fuse
30 A: 30 A audio system amp fuse
When using a substitute fuse, replace with a fuse of the correct capacity as soon as possible.
See also:
Power steering system
The power steering system operates while the engine is running. It helps reduce the effort needed to turn the steering wheel. The power steering system has mechanical steering capability in case th ...
Infants and small children
When transporting infants and small children in your vehicle, follow the instruction given below. Instruction: ► For small infants, an infant carrier should be used. For small children who ...
Roof carrier precaution
CAUTION (1) Make sure that the weight of the luggage does not exceed the allowable roof load. If the allowable roof load is exceeded, this may cause damage to the vehicle. The roof load is the to ...