Position lamps (for vehicles equipped with high intensity discharge headlamps)
1. To create enough work space, turn the steering wheel all the way in the direction opposite to the side you wish to replace.
2. Remove the clips (A) and screws (B) to turn up the cover (C).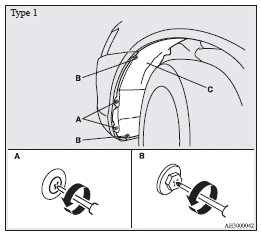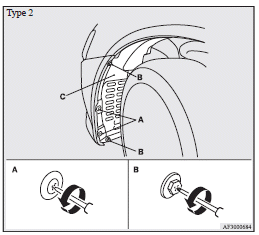 3. Turn the socket (D) anticlockwise to remove it.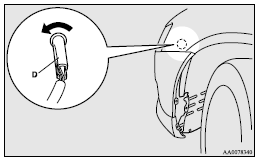 4. Pull the bulb out of the socket.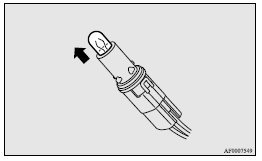 5. To install the bulb, perform the removal steps in reverse.
See also:
Parking brake
To park the vehicle, first bring it to a complete stop, fully engage the parking brake and then move the gear shift lever to 1st (on an uphill) or Reverse (on a downhill) position, for vehicles ...
To lock without using the key
Set the inside lock knob (1) to the locked position, and close the door (2). Note ► The driver's door cannot be locked using the inside lock knob while the driver's door is opened. ...
To remove the spare tyre
1. Lift up the board. 2. To remove the spare tyre, remove the installation clamp (A) by turning it anticlockwise. Note ► Put the spare wheel under the vehicle body near the jack. This make ...