Driving range display
This displays the approximate driving range (how many more kilometres or miles you can drive).
When the driving range falls below approximately 50 km (30 miles), "---" is displayed.
Refuel as soon as possible.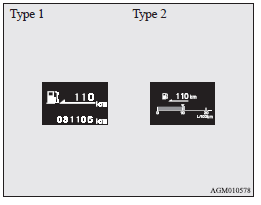 NOTE
• The driving range is determined based on the fuel consumption data. This may vary depending on the driving conditions and habits.
Treat the distance displayed as just a rough guideline.
• When you refuel, the driving range display is updated.
However, if you only add a small amount of fuel, the correct value will not be displayed.
Fill with a full tank whenever possible.
• On rare occasions, the value displayed for the driving range may change if you are parked on an extremely steep incline. This is due to the movement of fuel in the tank and does not indicate a malfunction.
• The display setting can be changed to the preferred units (km or miles). Refer to "Changing the function settings (when the ignition switch or the operation mode is ON)".
See also:
Reverse Parking Distance Warning settings
Reverse Parking Distance Warning will help warn the driver if a person, an animal or an object is detected within a certain distance when the vehicle is moving in reverse. Detecting sensor R ...
Changing the reset mode for average fuel consumption and average speed
The mode conditions for the average fuel consumption and average speed display can be switched between "Auto reset" and "Manual reset". 1. Press and hold the multi-information meter switch ...
Emergency starting
If the engine cannot be started because the battery is weak or dead, the battery from another vehicle can be used with jumper cables to start the engine. WARNING • To start the engine using jum ...