Audio system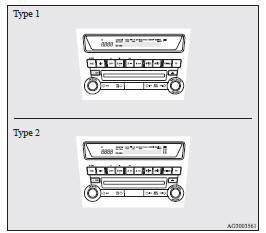 Type 1- LW/MW/FM digital turning radio with CD player
Type 2- LW/MW/FM digital turning radio with CD changer
For information on operations of the audio system for vehicles equipped with MITSUBISHI Multi-Comunication system (MMCS), refer to the separate owner's manual.
The audio system can only be used when the ignition switch or the operation mode is in ON or ACC.

NOTE
• To listen to the audio system while the engine is not running, turn the ignition switch to the "ACC" position or put the operation mode in ACC.
If the ignition switch or the operation mode is left in ACC, the accessory power will automatically turn off after a certain period of time and you will no longer be able to use the audio system. The accessory power comes on again if the ignition switch or the engine switch is operated with it in the "ACC" position. Refer to "ACC power autocutout function" on pages 1-12 and 4-11.
• If a cellular phone is used inside the vehicle, it may create noise from the audio equipment.
This does not mean that anything is wrong with your audio equipment. In such a case, use the cellular phone at a place as far away as possible from the audio equipment.
• If foreign objects or water get into the audio equipment, or if smoke or a strange odour comes from it, immediately turn off the audio system. We recommend you to have it checked. Never try to repair it by yourself.
Avoid continuous usage without inspection by a qualified person.
• The audio amplifier (if so equipped) is located under the front right seat. Do not subject the amplifier to a strong impact. It could damage the amplifier or malfunctioning could result.
See also:
To play USB memory device tracks via voice operation (vehicles with Bluetooth ® 2.0 interface)
Desired tracks can be selected and played from your USB memory device by "Artist", "Album", "Playlist" and "Genre" using voice commands. For information concerning the voice recogni ...
Licence plate lamps
1. Remove while pressing the lamp unit (A) to the left side. 2. Insert a minus screwdriver with the end covered with a cloth or other object to press the hook (B) aside and remove the lens. 3. ...
Rear window demister switch
The rear window demister switch can be operated when the engine is running. Push the switch to turn on the rear window demister. It will be turned off automatically in about 20 minutes. To turn off ...