Radio control panel and display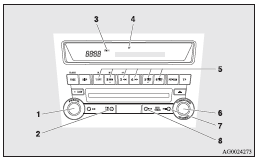 1- PWR (On-Off) switch
2- AM/FM (FM/MW/LW selection) button
3- FM (FM1/FM2/FM3) indicator
4- ST (Stereo) indicator
5- Memory select buttons
6- TUNE switch
7- SEEK (Up-seek) button
8- SEEK (Down-seek) button
See also:
Boot lid (or tailgate)
WARNING It is dangerous to drive with the boot lid (or tailgate) open since carbon monoxide (CO) gas can enter the cabin. You cannot see or smell CO. It can cause unconsciousness and even death. ...
Headlamp flasher
The high-beams flash when the lever is pulled slightly (2), and will go off when it is released. When the high-beam is on, the high-beam indication lamp in the instrument cluster will illuminate. ...
Steering wheel lock
To lock Turn the emergency key to the "LOCK" position. Turn the steering wheel until it is locked. To unlock Turn the emergency key to the "ACC" position while moving the steering wheel ...