Passenger's switches
The passenger's switches can be used to operate the corresponding passenger's door windows. Press the switch down for operating the window, and pull up the switch for closing.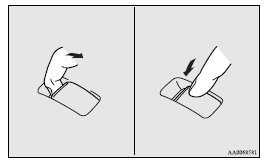 Note
► Repeated operation with the engine stopped will run down the battery. Operate the electric window switches only while the engine is running.
See also:
Parking brake break-in
Break-in the parking brake linings whenever the brake performance of the parking brake is insufficient or whenever the parking brake linings and/or discs are replaced, in order to assure the best ...
Dipper (High/Low beam change)
When the lamp switch is in the position, the beam changes from high to low (or low to high) each time the lever is pulled fully (1). While the highbeam is on, the high-beam indication lamp in t ...
Auto Stop & Go (AS&G) system
The Auto Stop & Go (AS&G) system automatically stops and restarts the engine without operating the ignition switch or the engine switch when the vehicle is stopped, such as at a traffic li ...