Driving range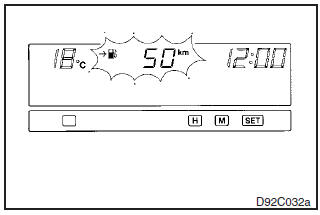 For vehicles with MITSUBISHI genuine audio, driving range can be displayed.
This value shows the distance (in km or miles) that can be driven on the fuel remaining in the fuel tank.
NOTE
(1) When the driving range is displayed, if the driving range drops below 50 km (30 miles), alarm sounds and the display shows a flashing. When this occurs, top up the fuel tank as soon as possible.
Even when an item other than the driving range is currently displayed, the alarm sounds and the driving range appears for 5 seconds when the driving range drops to the 50 km, 25 km and 10 km (or 30 miles, 15 miles and 6 miles) levels. Then, the original item is again displayed.
(2) The driving range varies depending on road conditions, the manner of driving and other related factors. Consequently, the display should be used only as a guide; top up the fuel tank as soon as possible.
See also:
Safe driving techniques
Driving safety and protection against injury cannot be fully ensured. However, we recommend that you pay extra attention to the following: Seat belts Before starting the vehicle, make sure that yo ...
Door ajar warning display screen (when the ignition switch or the operation mode is ON)
If any of the doors or the tailgate is not completely closed, this displays the open door or tailgate. If the vehicle speed exceeds approximately 8 km/h (5 mph) while a door is ajar, a buzzer s ...
ENGINE START/STOP button position
Illuminated ENGINE START/STOP button The light will go off after about 30 seconds when the door is closed. It will also go off immediately when the theft-alarm system is armed. ENGINE START ...