Engine coolant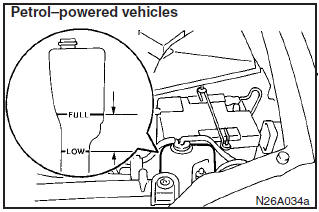 A translucent coolant reserve tank is located in the engine compartment. The coolant level in this tank should be kept between the two marks on the reserve tank when measured while the engine is cold. The cooling system is a closed system and normally the loss of coolant should be very slight. A noticeable drop in the coolant level could indicate leakage. If this occurs, have the system checked at an authorized MITSUBISHI dealer as soon as possible.
If the level should drop below the "LOW" level on the reserve tank, open the lid and add coolant.
Also, if the reserve tank is completely empty, remove the radiator cap and add coolant until the level reaches the filler neck.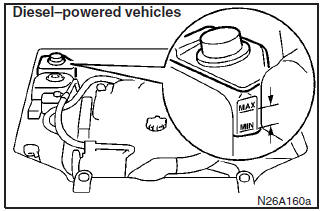 NOTE
On diesel–powered vehicles, the radiator has no filler port. Supply coolant from the filler port in the reserve tank.
WARNING
Do not open the reserve tank lid or radiator cap while the engine is hot. The coolant system is under pressure and any hot coolant escaping could cause severe burns.
See also:
SRS warning
This warning lamp/display is shared by the SRS airbags and the pretensioner seat belts. Refer to "SRS warning lamp/display". ...
To install
Align the tyre valve with the valve opening provided on the wheel cover. Then tap around the outer edge of the wheel cover with your hand to secure it in place. NOTE Full wheel covers have a sy ...
Rear window washer
The washer fluid will be sprayed onto the rear window while the button is being pressed. ...