Engine coolant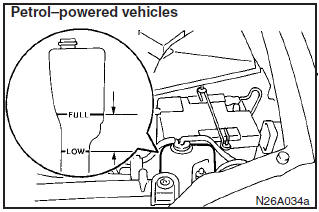 A translucent coolant reserve tank is located in the engine compartment. The coolant level in this tank should be kept between the two marks on the reserve tank when measured while the engine is cold. The cooling system is a closed system and normally the loss of coolant should be very slight. A noticeable drop in the coolant level could indicate leakage. If this occurs, have the system checked at an authorized MITSUBISHI dealer as soon as possible.
If the level should drop below the "LOW" level on the reserve tank, open the lid and add coolant.
Also, if the reserve tank is completely empty, remove the radiator cap and add coolant until the level reaches the filler neck.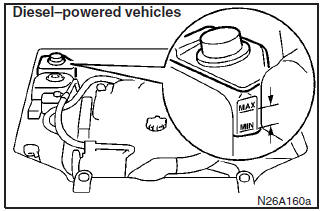 NOTE
On diesel–powered vehicles, the radiator has no filler port. Supply coolant from the filler port in the reserve tank.
WARNING
Do not open the reserve tank lid or radiator cap while the engine is hot. The coolant system is under pressure and any hot coolant escaping could cause severe burns.
See also:
SLIP control
Slip control prevents the drive wheels (front wheels) from excessive spinning during starting or while making accelerated turn on slippery roads to avoid losing the driving force of the front whee ...
Navigation-based Smart Cruise Control limitations
Navigation-based Smart Cruise Control may not operate normally under the following circumstances: The navigation is not working properly Map information is not transmitted due to infotainmen ...
Antenna
To remove Turn the pole (A) anticlockwise. To install Screw the pole (A) clockwise into the base (B) until it is securely retained NOTE • Be sure to remove the roof antenna in the following ...