Locking and unlocking the door
Turning the emergency key in the forward direction locks the door, and turning it in the rear direction unlocks the door. Also refer to "Locking and unlocking: Doors".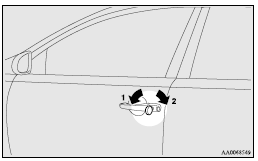 1- Lock
2- Unlock
See also:
Ashtray
Caution ► Put out matches and cigarettes before they are placed in the ashtray. ► Don't put papers and other things that burn into your ashtrays. If you do, cigarettes or other smok ...
Average fuel consumption display
This displays the average fuel consumption from the last reset to the present time. There are the following 2 mode settings. For information on how to change the average fuel consumption display s ...
Central door locks
NOTE • Each of the doors can be locked or unlocked independently by using the inside lock knob. • When locking or unlocking with the key on the driver's door, only the driver's door wil ...