Seat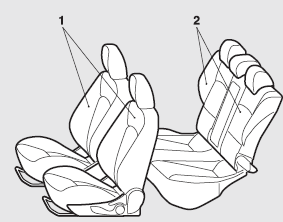 1-Front seat
► To adjust forward or backward ®
► To recline the seatback ®
► To adjust seat height (driver's side only) ®
► Heated seats ®
2-Rear seat
► Armrest ® p. 2-06
See also:
Service precautions
Adequate care of your vehicle at regular intervals serves to preserve the value and appearance as long as possible. Maintenance items as described in this owner's manual can be performed by the ...
Changing the security alarm settings
It is possible to set the security alarm to the "active" mode or "inactive" mode. Follow the procedure below. 1. Except for vehicles equipped with the keyless operation system, remove the ...
Safety mechanism
If a hand or head is trapped in a closing window, the window glass will lower automatically. Please ensure that nobody puts their head or hand out the window when closing. The lowered window will ...