Seat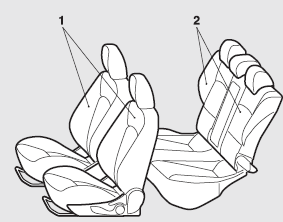 1-Front seat
► To adjust forward or backward ®
► To recline the seatback ®
► To adjust seat height (driver's side only) ®
► Heated seats ®
2-Rear seat
► Armrest ® p. 2-06
See also:
Emergency Braking
Emergency Braking The warning message, and an audible warning will warn the driver that emergency braking will be assisted. The brake assist will be activated and it helps avoiding colli ...
Important operation tips for the air conditioning
► Park the vehicle in the shade. Parking in the hot sun will make the vehicle inside extremely hot, and it will require more time to cool the interior. If it is necessary to park in the sun, ...
Safe driving techniques
Driving safety and protection against injury cannot be fully ensured. However, we recommend that you pay extra attention to the following: Seat belts Before starting the vehicle, make sure that yo ...