Manual transmission
The shift pattern is shown on the gearshift lever knob. During start-up, fully depress the clutch pedal and shift into 1st gear or "R" (Reverse) position.
Then gradually release the clutch pedal while depressing the accelerator pedal.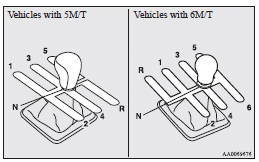 Caution
► Do not move the gearshift lever into reverse while the vehicle is moving forward;
doing so will damage the transmission.
► Do not rest your foot on the clutch pedal while driving as this will cause premature clutch wear or damage.
► Do not coast in the "N" (Neutral) position.
► Do not use the gearshift lever as a handrest, because this can result in premature wear of the transmission shift forks.

Note
► During cold weather, shifting may be difficult until the transmission lubricant has warmed up. This is normal and not harmful to the transmission.
► If it is hard to shift into 1st, depress the clutch pedal again; the shift will then be easier to make.
See also:
Possible driving speed (Except for vehicles with Sports mode)
In order to avoid damaging the engine due to excessively high rpm, do not exceed the possible driving speed when the selector lever is set to the "3" (THIRD) position, the "2" (SECOND) pos ...
Reversing sensor system warning display
In case there is a malfunction in the reversing sensor system, the display for the malfunctioning sensor will blink and the warning buzzer will sound for approximately 5 seconds. Even after the bu ...
To listen to a CD
1. Insert disc with label facing up. When a disc is inserted, the CD indicator (16) will come on and the CD player will begin playing even if the radio is being used. The CD player will also start ...