Floor mats

Warning
► Keep floor mats clear of the pedals by correctly laying floor mats that are suitable for the vehicle.
To prevent the floor mats from slipping out of position, securely retain them using the hook etc.
Note that laying a floor mat over a pedal or laying one floor mat on top of another can obstruct pedal operation and lead to a serious accident.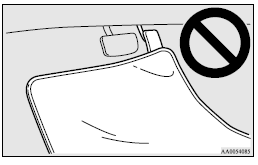 See also:
Sun visors
1- To eliminate front glare 2- To eliminate side glare Vanity mirror Type 1 A vanity mirror is fitted to the back of the sun visor. Operating the lid of the vanity mirror will automatically tur ...
Parking
To park the vehicle, fully engage the parking brake, and then move the gearshift lever to 1st or "R" (Reverse) position. Parking on a hill To prevent the vehicle from rolling, follow these pro ...
Changing gears
Always use care to change the gear with the vehicle speed matched to the engine speed. Proper shifting will improve fuel economy and prolong engine life. Avoid shifting down at high speed, as this ...