Twin Clutch SST control mode
Select the control mode from the following two types to suit the driving conditions.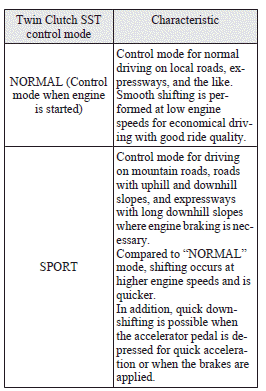 Note
► When continuously driving on closed circuit tracks or at other locations where the engine is operated at high speeds and under a heavy load, the Twin Clutch SST fluid temperature will have a tendency to rise.
In this case, if the temperature rises too high, the

warning display will appear on the information screen in the multi-information display to alert the driver.
If the

warning display appears, be sure to refer to "Warning display" and follow the appropriate measures.
► The Twin Clutch SST control mode can be selected both when "D" range operation is selected and when manual shifting is selected.
► If you select "SPORT" mode while the engine is cold, the transmission may shift up at different speeds compared to that when the engine is warm.
This is simply the operation of the control system to warm the engine quickly. It does not indicate a malfunction.
► For slippery road surfaces, such as roads with accumulated snow, "NORMAL" mode is recommended for smooth shifting at low engine speeds.
See also:
For best battery service
Keep the battery securely mounted. Keep the battery top clean and dry. Keep the terminals and connections clean, tight, and coated with petroleum jelly or terminal grease. Rinse any s ...
Loading luggage
When loading luggage, be careful not to load above the height of seats. This is dangerous not only because rearward vision will be obstructed, but also the luggage may be projected into the passen ...
To play tracks from a Bluetooth® device (vehicles with Bluetooth® 2.0 interface)
You can wirelessly connect a digital audio player or cellular phone supporting Bluetooth® to listen to the tracks on the connected device. Refer to "Bluetooth® 2.0 interface" for the connecti ...