Radio control panel and display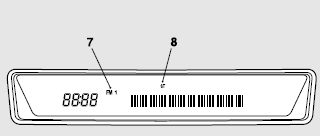 1- PWR (On-Off) switch
2- AM/FM (FM/MW/LW selection) button
3- Memory select buttons
4- TUNE switch
5- SEEK (Up-seek) button
6- SEEK (Down-seek) button
7- FM (FM1/FM2/FM3) indicator
8- ST (Stereo) indicator
See also:
Passenger compartment (LHD vehicles)
The fuse blocks in the passenger compartment are located behind the fuse lid in front of the driver's seat at the position shown in the illustration. A- Main fuse block B- Sub fuse block 1. O ...
Maintenance when trailer towing
Your vehicle will need service more often when you regularly pull a trailer. Important items to pay particular attention to include engine oil, axle lubricant and cooling system fluid. Brake con ...
To check the coolant level
A transparent coolant reserve tank (A) is located in the engine compartment. The coolant level in this tank should be kept between the "LOW" and "FULL" marks when measured while the engine ...