CD control panel and display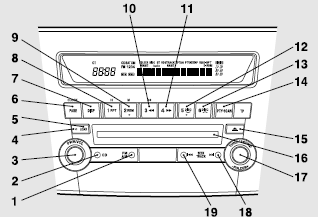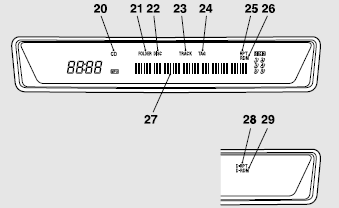 1- AM/FM button
2- CD (CD mode changeover) button
3- PWR (On-Off) switch
4- LOAD indicator
5- LOAD button
6- PAGE (Title scroll) button
7- DISP (Display) button
8- RPT (Repeat) button
9- RDM (Random) button
10-

(Fast-reverse) button
11-

(Fast-forward) button
12- DISC (Disc down) button
13- DISC (Disc up) button
14- SCAN button
15- Eject button
16- Disc-loading slot
17- FOLDER switch
18-

(Track up) button
19-

(Track down) button
20- CD indicator
21- FOLDER indicator
22- DISC (Disc) indicator
23- TRACK (Track number) indicator
24- TAG (Tag) indicator
25- RPT (Repeat) indicator
26- RDM (Random mode) indicator
27- Display
28- D-RPT indicator
29- D-RDM indicator
See also:
Rear window wiper and washer
The rear window wiper and washer switch can be operated with the ignition switch in the "ON" or "ACC" position. INT- The wiper operates continuously for several seconds then operates inte ...
Control panel
A- Temperature control dial B- Air selection switch C- Blower speed selection dial D- Mode selection dial E- Rear window demister switch Note ► Button (F) is not available for use. The ...
Mitsubishi Carisma Typical Pricing
For the earlier cars, you can expect to pay around £1,200 for a 95N 1.6GL hatchback. GLX trim adds about £200 and another £200 or so secures a GLS. If you prefer the rare saloon, ...