Engine specifications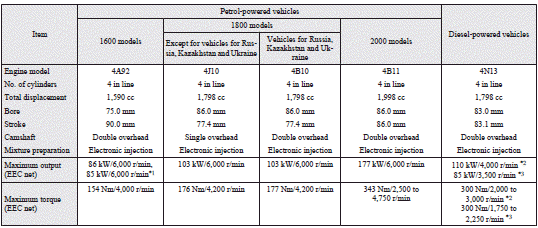 1: Vehicles for Belgium, Norway
2: Vehicles equipped with the high power engine
3: Vehicles equipped with the low power engine
See also:
Deactivation
You can deactivate the system by pressing the "Auto Stop & Go (AS&G) OFF" switch. Then the " " display/indicator will turn on. ...
Overview
Doors: The car Mitsubishi Carisma was made only in option with 5 doors. Seats: The salon of the car has 5 seats. Mitsubishi Carisma was issued with the following types of a body: hatchback (lift ...
Parking brake
To park the vehicle, first bring it to a complete stop, fully engage the parking brake and then move the gear shift lever to 1st (on an uphill) or Reverse (on a downhill) position, for vehicles ...