Fuel selection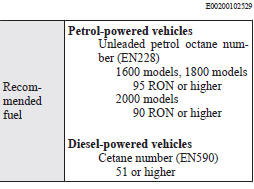 CAUTION
• For petrol-powered vehicles, the use of leaded fuel can result in serious damage to the engine and catalytic converter. Do not use leaded fuel.
• Diesel-powered vehicles are designed to use only diesel fuel that meets the EN590 standard.
Use of any other type of diesel fuel (bio diesel, methylester, etc.) would adversely affect the engine's performance and durability.

NOTE
• Petrol-powered vehicles have the knock control system so that you can use unleaded petrol 90 RON as an emergent measure in case unleaded petrol 95 RON or higher is not available on journey, etc.
In such a case, you don't need to adjust the engine specially. In case of using unleaded petrol 90 RON, the engine performance level is reduced.
• Due to the separation of paraffin, the fluidity of the fuel decreases considerably as the temperature falls.
Because of this fact there are two kinds of fuel: "summer" and "winter".
This must be considered in winter use.
Select either of the two kinds of fuel in accordance with ambient temperature.
Above -5 °C: "Summer" diesel Below -5 °C: "Winter" diesel When travelling abroad, find out in advance about the fuels served in local service stations.
• Repeatedly driving short distances at low speeds can cause deposits to form in the fuel system and engine, resulting in poor starting and poor acceleration. If these problems occur, you are advised to add a detergent additive to the gasoline when you refuel the vehicle.
The additive will remove the deposits, thereby returning the engine to a normal condition.
Be sure to use a genuine MITSUBISHI FUEL SYSTEM CLEANER.
Using an unsuitable additive could make the engine malfunction. For details, please contact a MITSUBISHI MOTORS Authorized Service Point.
• Poor quality petrol can cause problems such as difficult starting, stalling, engine noise and hesitation. If you experience these problems, try another brand and/or grade of petrol.
If the check engine warning lamp flashes, have the system checked as soon as possible at a MITSUBISHI MOTORS Authorized Service Point.
See also:
Seat belt inspection
► Check the belts for cuts, worn or frayed webbing and for cracked or deformed metallic parts. Replace the belt assembly if it is defective. ► A dirty belt should be cleaned with neutra ...
Used engine oils safety instructions and disposal information
Warning ► Prolonged and repeated contact may cause serious skin disorders, including dermatitis and cancer. ► Avoid contact with the skin as far as possible and wash thoroughly after ...
Infants and small children
When transporting infants and small children in your vehicle, follow the instruction given below. Instruction: (1) For small infants, an infant carrier should be used. For small children whose ...