Tailgate
WARNING
• It is dangerous to drive with the tailgate open, since carbon monoxide (CO) gas can enter the cabin.
You cannot see or smell CO. It can cause unconsciousness and even death.
• When opening and closing the tailgate, make sure that there are no people nearby and be careful not to hit your head or pinch your hands, neck, etc.
To open
After unlocking the tailgate, lift the tailgate.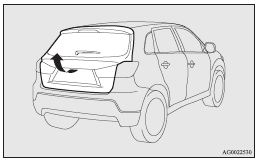 NOTE
• If you do not open the tailgate immediately after pressing the tailgate OPEN switch, the tailgate can not be lifted. If this happens, press the tailgate OPEN switch again and lift the tailgate.
• The tailgate cannot be opened when the battery is flat or disconnected.
To close
Pull the tailgate grip (A) downward as illustrated.
Gently push the upper gate from the outside with enough force so that it is completely closed. Always ensure the tailgate is securely closed.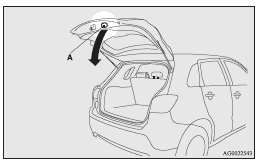 CAUTION
• When closing the tailgate, always ensure your or other person's fingers cannot be caught by the tailgate.

NOTE
• Gas struts (B) are installed to support the tailgate.
To prevent damage or faulty operation.
• Do not hold the gas struts when closing the tailgate.
• Also, do not push or pull the gas struts.
• Do not attach any plastic material, tape, etc., to the gas struts.
• Do not tie string, etc., around the gas struts.
• Do not hang any object on the gas struts.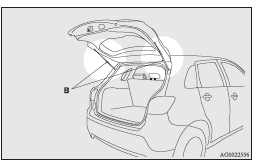 See also:
Driver's and passenger's front air bag system
The driver's air bag is located under the padded cover in the middle of the steering wheel. The front passenger air bag is contained in the instrument panel above the glove box. The driver ai ...
Towing
Your vehicle may be towed either by another vehicle with a rope, or by a tow truck. The regulations concerning towing may differ from country to country. It is recommended that you obey the regul ...
Using the MIVEC engine
The MIVEC engine automatically controls valve timing in accordance with driving conditions for maximum engine performance. Note ► To protect the engine, the high-speed mode may not be selec ...