Ignition switch
In order to prevent theft, the engine will not start unless a preregistered keyless operation key is used.
(Engine immobilizer function)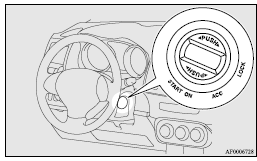 LOCK (PUSH OFF)
The position in which the steering wheel is locked.
LOCK (PUSH ON)
When the ID code verification inside the vehicle produces a match, the steering wheel lock is released and the ignition switch can be turned.
ACC
The engine is stopped, but the audio system and other electric devices can be operated.
ON
The engine is running, and all the vehicle's electrical devices can be operated.
START
The starter motor operates. After the engine has started, release the key and it will automatically return to the "ON" position.

Note
► The keyless operation key is equipped with an electronic immobilizer.
To start the engine, the ID code which the transponder inside the key sends must match the one registered in the immobilizer computer.
Refer to "Electronic immobilizer (Antitheft starting system)".
See also:
Momentary fuel consumption display
While driving, this displays the momentary fuel consumption, using a bar graph. When the momentary fuel consumption surpasses the average fuel consumption, the momentary fuel consumption is displ ...
Selector lever operation
The CVT selects an optimum gear ratio automatically, depending on the speed of the vehicle and the position of the accelerator pedal. The selector lever (A) has 2 gates; the main gate (B) and the m ...
To operate without using the keyless operation function
Emergency key The emergency key is built into the keyless operation key. If the keyless operation function cannot be used, for example because the keyless operation key battery has worn out or th ...