Procedure for replacing the remote control switch battery
1. Before replacing the battery, remove static electricity from your body by touching a metal grounded object.
2. With the MITSUBISHI mark facing you, insert the cloth-covered tip of a straight blade (or minus) screwdriver into the notch in the case and use it to open the case.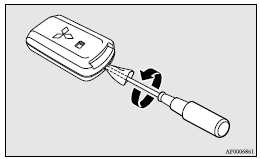 Note
► Be sure to perform the procedure with the MITSUBISHI mark facing you. If the MITSUBISHI mark is not facing you when you open the case, the transmitter may come out.
3. Remove the old battery.
4. Install a new battery with the + side (A) up.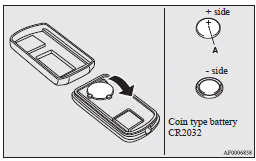 5. Close the case firmly.
6. Check the keyless operation function to see that it works.

Note
► You may purchase a replacement battery at an electric appliance store.
► A MITSUBISHI MOTORS Authorized Service Point can replace the battery for you if you prefer.

Caution
► When the remote control switch case is opened, be careful to keep water, dust, etc. out. Also, do not touch the internal components.
See also:
Towing
Your vehicle may be towed either by another vehicle with a rope, or by a tow truck. The regulations concerning towing may differ from country to country. It is recommended that you obey the regul ...
Air purifier
An air filter has been incorporated into this air conditioning so that pollen and dust are cleaned from the air. Replace the air filter periodically as its ability to clean the air will be reduced ...
Parking
To park the vehicle, fully engage the parking brake, and then move the gearshift lever to 1st or "R" (Reverse) position. Parking on a hill To prevent the vehicle from rolling, follow these pro ...