Sunroof
The sunroof can only be operated with the ignition switch in the "ON" position.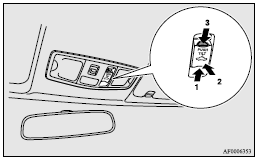 1- Open
2- Tilt up
3- Close, Tilt down
To open, press the switch (1).
To stop the moving sunroof, press switch (2) or (3).

Note
► The sunroof automatically stops just before reaching the fully open position.
Press the switch again to fully open it.
To close, press the switch (3).
To stop the moving sunroof, press the switch (1) or (2).
To tilt up, press the switch (2).
The rear edge of the sunroof rises for ventilation.
To tilt down, press the switch (3).

Warning
► Do not put head, hands or anything else out of the sunroof opening while driving the vehicle.
► Never leave a child (or other person who might not be capable of safe operation of the sunroof switch) in the vehicle alone.
► Before operating the sunroof, make sure that nothing is capable of being trapped (head, hand, finger, etc.).
See also:
Defogging inside windshield
When the windshield is covered with frost or moisture, the front view is blurred, you should remove the frost and moisture. WARNING Windshield heating Do not use the or position during cool ...
On a bumpy or rutted road
Drive as slow as possible when driving on bumpy or rutted roads. Caution ► The impact on tyres and/or wheels when driving on a bumpy or rutted road can damage the tyre and/or wheel. ► ...
Digital clock
Automatic mode and manual mode are available for digital clock adjustment. Select the automatic mode or the manual mode by performing the following operations: 1. Press the PWR switch (A) to turn ...