Returning to the factory settings
All of the function settings can be returned to their factory settings.
1. Press and hold the multi-information meter switch for about 2 seconds or more to switch from the setting mode screen to the menu screen.
Refer to "Changing the function settings (when the ignition switch is "ON")".
2. Lightly press the multi-information meter switch to select "RESET" (returning to the factory settings).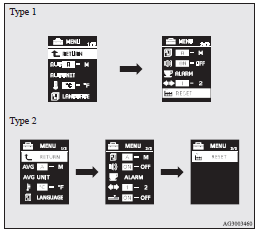 3. When you press and hold the multi-information meter switch for about 5 seconds or more, the buzzer sounds and all of the function settings are returned to the factory settings.

Note
► The factory settings are as follows.
• Average fuel consumption and average speed reset mode: A (Auto reset)
• Fuel consumption display unit: L/100 km
• Temperature unit: °C (Celsius)
• Display language: ENGLISH or RUSSIAN
• Cooperative language setting: A
• Operation sounds: ON (Operation sounds on)
• "REST REMINDER" display: OFF
• Turn-signal sound: Turn-signal sound 1
• Momentary fuel consumption with the green bar graph (Type 2): ON
See also:
Display unit selection
Originally, km/h and L/100 km are selected. When you want to select the unit "mile", follow this procedure. NOTE For vehicles without MITSUBISHI genuine audio system, only the unit of averag ...
Braking
All the parts of the brake system are critical to safety. We recommend you to have the vehicle checked at regular intervals according to the service booklet. CAUTION: ● Avoid driving habits ...
Waxing
Waxing the vehicle will help prevent the adherence of dust and road chemicals to the paintwork. Apply a wax solution after washing the vehicle, or at least once every three months to assist displa ...